ARSD NCC Report 2017-18
ARSD NCC
National Cadet Corps is the largest students' uniformed organization in India. NCC unit of ARSD college is provided by 7 Delhi Battalion NCC. ARSD NCC is the most active student society of this college which aims to develop character, comradeship, discipline, leadership, secular outlook, spirit of adventure and the ideals of selfless service amongst the youth, which has further helped the cadets to find their way to Indian Defense Services and other such careers.
LT (DR) SANDEEP (ANO)
| | |
| --- | --- |
| The Associate NCC Officer of ARSD College, Lt (Dr) Sandeep, is a determined personality. From the very inception of his tenure, he has shown a great zeal to work for the upliftment of NCC in our college. Under his guidelines,ARSDNCC has been organizing its Annual Fest "SANGHARSH". Definitely he is a source of motivation for the cadets and driving force for them to aim for' better than best'. | |
 REPUBLIC DAY CAMP
Republic day camp is the most prestigious camp held in INDIA NCC. This camp goes on for 30 days. Cadets from all over INDIA get selected for this camp from their directorate (states) 105 cadets from each.A cadet has to go through a long process of selection before he can represent his state at RDC, which begins six months before 26th Jan. Various camps are held within that time frame.The cadets who clear all these camps are sent to group camp series and after a rigorous training of two months three cadets of ARSD college were selected for this prestigious camp.In RDC there are various events in which a cadet can participate like Foot Drill,Guard competition, Cultural events, Flag Area and many more.
PM RALLY
Some cadets are also chosen for PM rally that is held a day after Republic Day. CadetBABLUof our college made his way to be a part of the Delhi Directorate contingent of 56 cadets. Our Prime Minister, Shri Narendra Modireviewed this rally. In this rally alldirectorates represent their marching contingent.
A cadet has to go through a lot of hurdles to be a part of Culturals in RDC.Only 20 cadets are selected from all over India. SGT. NISHANT GAUTAMof ARSD college was selected.There are two prestigious events in the RDC and that are YEP(Youth Exchange Programme) and Flag Area Briefing. YEP is a country to country exchange of cadets of foreign countries and participation in NCC activities of the host country to create an increased awareness among participants and appreciation of each other's socio-economic and cultural realities.While in Flag Area cadets brief about the theme of their directorate through their art and craft to the dignitaries like Army chief,Defence Minister and Vice president. Cdt Praveen Kumar Shekhawat was a part of both the events.The cadets in RDC are also given parties by Vice President,Defence Minister,Chief of three forces.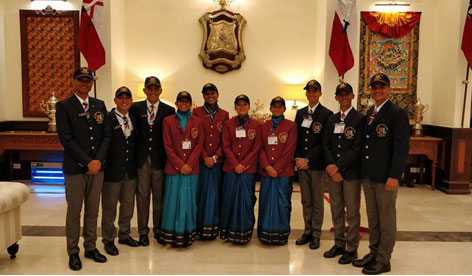 THAL SAINIK CAMP
 The TSC is a 12 days camp conducted in Delhi every year in the late autumn, in which the cadets are selected from all 16 directorates (30+3 cadets from each directorate), by the selection procedure conducting 3 pre-TSC camps each of 10-12 days in a week interval.The selected cadets then are sent to the TSC to represent their respective directorates in the competitions like obstacle course,Firing and Map reading.CdtMohd. Shadab was a part of this camp.In camp also there are various competitions like group shooting,snap shooting and judging distance.In  judging distance CdtMohd. Shadab won silver medal and was felicitated by Additional Director General of Delhi Directorate, NCC.
PARA SLITHERING CAMP
PARA SLITHERINGactivity is also an important activity which gives confidence to cadets to fly in the air.It is also an event of PM rally.Every year it is held at Cariappa Parade ground with PM rally cadets.It is an activity of Indian Army to tackle with the situation when there is no helipad or there is only a forest land.A total of 50 cadets from all over INDIA including boys and girls of senior division are selected for this camp.And from these 50 cadets only 30 cadets get chance to be a part of this activity through Indian army advanced medium multirole helicopter Mi-17.
CM RALLY
CM rally is also a prestigious camp.It is conducted every year on 25th of January.CM of every directorate review the parade of their directorate.This year CM Arvind Kejriwal reviewed the parade.A total of 111 cadets from Delhi Directorate out of whom 3cadets were from our college . Cdt.Navin Kumar got the rank of junior under officer and represented as a platoon commander and Cdt.Umeshkumar got the rank of Senior under officer and represented as a Company Commander of Delhi Directorate.
UK TREK
TREKKING CAMP is the activity in which cadets get selected for TREKKING for long distance. 5 cadets from our college were selected for this camp. They trekked for 3 days through various hills (Santala Devi Trek,Mussorie Trek). They visited IMA,FRI and RMC.The aim of this trek is to inculcate the spirit of adventure,exploration and practical investigation. They were also taken to Forest Research Institute to develop love for nature and concern for environmental issues in them.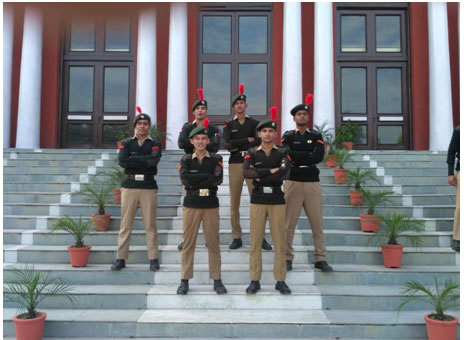 ARMY ATTACHMENT CAMP
Army attachment is a camp attached with an army unit to increase their knowledge about the advanced weapons and artillery tools of Indian Army.It is held in the month of November every year. This year it was held in Meerut.Our cadets have always been in contact with Army.Cadets selected from all over India come to attend this camp. In 2017, 10 cadets from our college were selected for this camp.
COMBINED ANNUAL TRAINING CAMP
Combined Annual Training Camp is the training camp for every cadet. This camp is held twice a year to practically prepare the cadets in military discipline.The aim of this camp is to brush up the knowledge of cadets about NCC.12 cadets went for this camp and participated in various competition like Guard of Honour Competition, Drill, Debate, Best Cadet, Quiz & Solo Singing Competition.
JUOSatender and Cdt Harsh Dahiya won the second prize in debate competition and JUO Satender along with his partner also won the quiz competition.
CdtNeeraj along with his team won the obstacle run and was felicitated by the Commanding Officer of our unit.
WORKSHOP ON PERSONAL LEADERSHIP DEVELOPMENT
ARSD NCC always try to develop the all-round personality of the cadets and from 2016 ARSD NCC has started a seminar to motivate the youth in nation building and character building.In 2018 January a workshop onPERSONAL LEADERSHIP DEVELOPMENT was conducted.This workshop was conducted by DR. SUSHANT VERMA
REPUBLIC DAY CELEBERATION
Every year ARSD NCC celebrate the Republic Day in the college where the cadetsparticipate in various activities like Guard of Honour, Drill and cultural activities.The special attraction of this Republic Day celebration was the band performance. This year we organised a farewell cum felicitation ceremony for our Ex. Associate NCC officer(ANO) Lt. S. C. Jha.
ANNUAL  FEST "SANGHARSH-2018"
ARSD NCC organized its annual fest "SANGHARSH-2018"on 15TH&16TH Of February 2018.For the first time ARSD NCC  oragnized two days' fest to make it more  mesmerizing and enchanting.Arjuna awardee Sweety Boora graced the occasion as the Guest of Honour.Deputy Commissioner of South west Delhi Monika Bharadwaj also graced the occasion and gave a motivating speech.They were welcomed by ARSD NCC band,which is one of its kind in Delhi University. Various competitions such as Quarter Guard,Drill,Best Cadet etcwere organized. One of the main crowd puller was Ambush and karva Magha.4 cadets with special achievement were felicitated by the Principal and the chief guest.The main source of the attraction of this fest was aero show.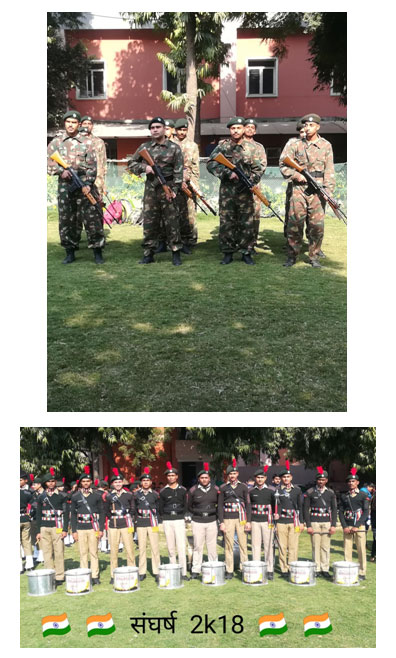 SWACHH BHARAT ABHIYAN
College NCC is aware of its social responsibilities too. We have joined  theSwachh Bharat Campaign enthusiastically. We have also organized frequent drives outside and inside the college premises to make students aware of sanitation and cleanliness, also motivated the students to carry forward this campaign to their localities and vicinities.
PLANTATION ACTIVITY
Plantation activity is the activity in which every NCC cadet feels proud. NCC cadet not only trains for army but they also participate in environmental activities. Our cadets also participated in this activity and we planted 50 plants in the college premises.
BLOOD DONATION ACTIVITY
ARSD NCC cadets always participated in social activities.This year cadets participated in various blood donation camps.The recent blood donation activity was in the month of October 6. Cadets of our college donated blood to Army College of Medical sciences.